If you want to contact me during the expedition, use our guestbook!


24th June 2010
K2 Base Camp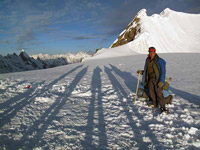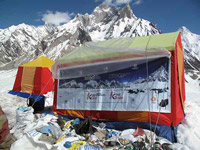 Three years have passed since the last time I saw from nearly the Great Mountain (Chogori, in Balti language), more than ten from the first time, a marriage. Yet every time I sit before it, I get excited. This morning, after dribbling the last obstacle (a heavy 4-page questionnaire distributed by the Central Karakoram National Park, in cooperation with the powerful and ubiquitous EvK2Cnr Committee, to all those who pass through Concordia), we arranged our base camp on K2, between the Korean and Iranian expeditions. K2 is neither the highest nor the steepest mountain in the world, yet, according to many, it is just a mountain, but "The Mountain", the ambition of every mountaineer, the peak who breaks down dreams and ambitions of the best alpinists. Its pyramidal form, massive and stable, it is built to last, as the Egyptians well knew. From a geological point of view, it is young and still growing. I like to think that within a few hundred thousand years it will pass Everest in height. It has a chance. It will do it. A mountain is not just a big rock, as an elephant is more than a giant amoeba. Has an individual character. Born, grows, dies. It is certain that one day the K2 will vanish away: "after endless aeons even death may die". Some numbers help to put the K2 into the right perspective. Its volume is about thirty times that of the Matterhorn. Unlike Everest, which was summited by thousands of people, the K2's top was reached by a little more than two hundred alpinists, with and without oxygen, among which include roughly twenty-five Italians, including the first climbers, Lacedelli and Compagnoni. Statistics show that, with Annapurna, it is the mountain with the highest mortality rate: one in seven among the climbers that touch the top does not return. It has never been climbed in winter and in some years, including 2009, no one has stepped on the summit. So, where is its irresistible charm? It is in the fact that it doesn't give itself easily. To nobody. Currently, the expedition to K2 is as follows:
An American International Expedition, which has two members, a Swedish, Frederick, and a Texan, Trey, veterans from downhill skiing Leila Peak. Frederick would like to ski K2 from Cesena. (By the way, we learned today that they were the first one on Gondoghoro, not us!) They will be joined by other members of the expedition leaded by Fabrizio Zangrilli, currently on Broad Peak.

An expedition consisting of one (and beautiful) solitary Iranian mountaineer Leila, assisted by two high altitude porters.

Our Italian expedition of three members

A large and well equipped Korean expedition of eight members (including one woman) plus four carriers, two from Hunza and two from Shimshal.
26th June 2010
K2 Advanced Base Camp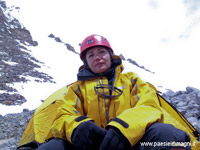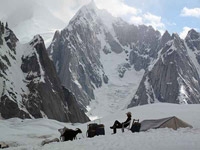 After so many beautiful days it was unlikely to continue. Yesterday, the day after our arrival at base camp, it snowed almost continuously albeit weak. We greeted and Bruna and Claudio that, after a night at the base, pointed to Gore II. Wishes for their return. They should arrive in Skardu on 28th. We took advantage of the bad weather rearranging our camp, meeting members of other expeditions and preparing the backpacks for the climb to the advanced base camp. We wanted to reach camp 1 but, at 4 this morning it was foggy, so we waited until 8 o'clock before leaving. It was too late to get C1 so we made a deposit in abc, where arrived also some Koreans and Ms. Leila. They will stay in abc this night and they are planning to go to C1 tomorrow morning. Frederik and Trey have left early to Cesen C1. We intend to go to C1 tomorrow (the weather is favourable), starting from BC. Hopefully tomorrow we will overnight in C1 before returning. There will be a gap of several days updating the blog because we are without electricity: our generator is dead on arrival at base camp. As they say in Italy "see Naples and then die." Waiting for a replacement, without which I can not reload the PC, I can count only on short communications on the phone. Meanwhile, the snow on the Godwin Austen has facilitated the ascent to abc, less tricky than I remembered. On the other hand, everything is buried under the snow: hard times for the cleaning expedition as everything is buried, up from Concordia, including fixed ropes. Adriano has struggled fiercely during the night with the ghost of goat gobbled at dinner, which gave him lower abdominal cramps. He will climb with us tomorrow. We decided: no more meat at night, but only for lunch, to avoid the nightmares that, at 5000 m, are particularly deadly.
27th June 2010
Camp 1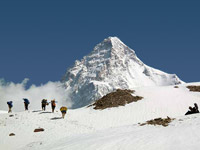 We left at 5 am towards Camp 1. There was a lot of snow that allowed us to climb without ropes as the Koreans did not like that we touch them. The ropes were set until one hundred meters below the C1. We exceeded all Koreans, including the one climbing with jumar and without weigh. Our legendary Adriano made the track and put the first footprint on C1 of Abruzzi's Spur at 10 am. Sergio and I arrived fifteen minutes, and later on the Koreans followed by Leila. Then we got a bit towards the C2 to free old ropes from the ice and give a look around. Our two carriers are already descending, while we will spend the night here. Photos of the C1 will be published tomorrow (hopefully).
28th June 2010
Camp One to Base Camp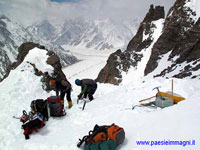 A bad night, if you want to know. Not just for the few inches of snow fallen down, as for the difficulty of falling asleep the first time at 6000 m. Yesterday, the climb from advanced base camp to camp one, (seven hundred meters of altitude on 45 degrees that never give you up), was quick to the newcomers like us: three hours to the usual Adriano and three hours and 15 for me, the slower of the three. We did not use the fixed ropes emplaced in recent days by Koreans for a problem of misunderstanding, which I resolved today at a meeting interexpeditions. The group of George Dijmarescu arrived yesterday: five members including two Nepalese Sherpas. The meetings at base camp between the leaders of several expeditions are unavoidable, looking like damn business meetings: lengthy discussions to decide who should do what. Finally, everyone is always trying to limiting the damage, ie in this case the feet of rope to carry and to equip the dangerous stretches of the route. I would rather avoid them, but collaboration should always prevail over competition in mountains like this one. I have to thank the Iranian Leila who lent me her portable transformer to connect my satellite to the solar panel. It came off a thread, a small thing to fix, but try you to find a welder at the base camp of K2 ... If - and when - I'll get the generator promised by Ali, I will be able to send these posts more easilier. Yesterday, to recharge the battery of the PC, we actually had to go to the Broad Peak base camp, three kilometers from here, to find a generator running. In comparison to these small / large practical problems (of course, it's possible to live without electricity, but lack of communication makes me sad), the actual climb seems like a distant and relatively soluble. Now our next goal is camp two (this year all fixed rope are buried in snow) and sleep there, always weather permitting and Inshallah!

30th July
To sleep--perchance to dream ... surely to eat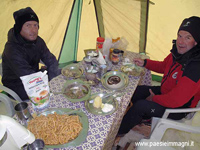 Polish expedition arrived today: eight members and four high altitude porters who will attempt the Spanish Route until the end of August. To them, our best wishes. If it is true that climbers of the East are comfortable in winter conditions, this summer they will get their teeth on the Spanish Route, in my humble opinion. As far us, we are stacked because of bad weather. The acclimation proceeds and the body is to feed. Of the tripod upon which the human condition rests (food, sex, love?) the food is still by far the most important. Food eaten and food dreamed, one does not live by spirit alone. The cook Qawar prepares our food. It must have been with us one of my old acquaintance, Ali 'Moscow', expedition's chef of the long course, but this year he seems to have turned his backs on the mountain, preferring a steady job at a restaurant in Lahore. Amen. Fortunately, Qawar is up the task, as they say. He is a wiry little man, surrounded by the aura of respect and power typical of able cooks. He also runs a small restaurant to Skardu, where we will go after the expedition. Our daily diet has some Italian contamination on a solid Pakistani foundation, lacking, as much as possible, "Pitta" ayurveda, the "spicy" so popular around here as hated by our delicate western palates. Our breakfast consists of fried onions and fresh tomatoes (while they last), sponge cake with honey, corn flakes, muesli, jam, biscuits and the inevitable chapatti washed down with the usual beverages, hot water and instant coffee, tea, chocolate. So far, a very western style. Dinner and lunch are the same, with the only difference of meat, absent in the evening for prevent us nightmares (it is enough with K2, that takes already them on). Starters hot broth and chapati, followed by well-cooked pasta (which I imagine would turn up our noses at many compatriots) topped with a little spicy sauce made from tomatoes and ketchup. Alternatively, white rice with peas. Then stewed goat or canned meat. Sometimes pizza (Pakistani style). As a side dish, fricassee of cabbage, potatoes and eggplants or potatoes fried or boiled with mayonnaise. For dessert, nuts, fruit in syrup or rice kir with pistachios. A great demand, Chocolate pudding (see photo). Since here, the raw facts. I must add that, unlike in Italian abroad so well described by Beppe Severgnini in his book "Italians", we like this menu and we do not have particular nostalgia. Nevertheless, we also have strategic reserves. Therefore, from time to time, in tents or on the table some prohibited food appears like dried beef and sausages, salted pork and bacon, parmesan or Dutch wax cheese. But do not think that with all this good things we are fattening: I have lost 4 kg from the start. Spirit of adaptation does not mean to have lost taste and critical ability. Here comes to my rescue the dream cookery, my personal appointment on 8th December with a Catalan restaurant, El Bulli. For those who do not know it, it is sufficient to say that it is the equivalent of K2 in haute cuisine, a restaurant where a table is more difficult than finding a whale in Japanese territorial waters. After years of attempts and a long training in Italy at the table of great masters such as Alajmo, Bottura, and Pierangelini Vissani (omit the names of their restaurants, which can be found on the short list of Italian Michelin's stars) Sandra and I are finally ready to climb the throne of El Bulli, Caleta Roses, near Barcelona. Here we welcome the Chef of Chef Ferran Adrià. Do not think that booking a table at El Bulli is as easy as lifting the handset and dial a number: 4000 places and about one million requests per year, that's says something. To get a reservation in what, until last year, was considered the best restaurant in the world, number one in international rankings (now dropped to second place, just as the K2 is the second mountain in the world) requires perseverance, preparation and determination. A climb in short, but of cookery. From the current gasoline stoves at 5000 m of the K2 base camp to the alchemic summit of the molecular cuisine of Adrià there is an abyss, I admit. This is the gift that we give ourselves, me and my webmistress, after the fatigues of K2. A nice round tournament in the group of greedy, which we are.
3rd July, 2010
The dangers of base camp ...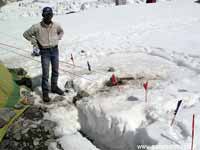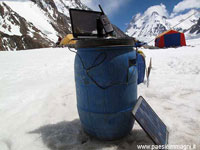 Today, back to base camp after a session of acclimatization in C1, two surprises were waiting us: our kitchen tent moved and the arrival of Ralf and Gerlinde. In recent days we have noticed inside the tent we sank to knees, but we didn't attach importance as at base camp one sinks a bit everywhere and the cracks wide with each passing day. A couple of large stones had buffered the problem and that's that. Instead, it was a large crack just covered by a meter of wet snow. The rogue halved the kitchen tent, just one step away from our table, so much so that we we all sunk, more or less several times without ever recognizing the trap. But the crack, hungry, could not settle for so little, and yesterday, in our absence, played a trick to cook. The hole opened up a bit 'more of its jaws and Qawar was swallowed, whole, in a few meters. Our good cook, immediately rescued, escaped with only some abrasions and some fear.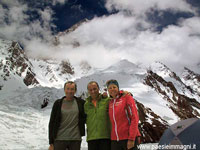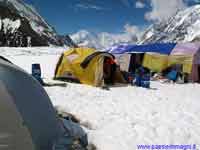 Yesterday it arrived also the long-awaited generator (thanks Ali) and a bit of fresh supplies. But the biggest event of the day was undoubtedly the arrival of Ralf and Gerlinde, who will try K2 through Cesen. This morning Gerlinde told me that she was very surprised to see tends badged "Kolon Sports", the sponsors of Ms Oh. For a moment she thought that the rival was back to K2 for some unknown reason ... instead it was only material that our agency had somehow recovery by the Korean disarmament. I reassured the moral winner (always in my modest opinion) of the challenge for the 14 eight thousand that the tents were occupied by three crumbling Italians. The next few days the weather will not improve and snow and cold do not lack. I understand that in Europe there is temperature record: the same old story, everything to somebody and nothing other.
4th July, 2010
The dangers of base camp 2 ...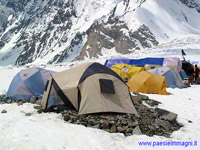 Today's scoop is that the three high altitude porters of Koreans have left, ditching their expedition. The reasons are not clear, may be for the excessive workload that they were submitted. This year there are very few expeditions on the Spur (there are much more on Cesen) and no fixed ropes because of snow: so, if we want get C2 and then C3, we must open the way ourself, since we are among the more acclimated here and the Koreans will not be able to contribute themselves. We are relying on two mountaineers of George's expedition and two Sherpa of Leila, (just) assuming that their strategy is not waiting. In those circumstances, the outfit of the way increasingly resembles a chess game. In any case, we will move only with two consecutive days of good weather, which should be from next Thursday. Our goal is to reach camp two, where we want to sleep, then try to force the route to camp three, above the Black Pyramid. We expect a lot of work but we never thought it would be easy. The important thing is that the weather improves and gives us the chance to stay at high altitude and to equip the most vulnerable sections. If only the European heat wave reached Baltoro! The other news is the removal of our tents at base camp, to make them more stable on melting ice. The usual Adriano, who had temporarily a tent Korean without apse, could eventually replace it with a presidential mansion sent to us yesterday by Ali: I think it is the same that he had supplied Gerfried last summer in Nanga Parbat. It looks like a studio! Adri has even had to close an unused section: he may sublet part of his empty loft to Pole girls, who have a rather small individual tendon ... but we're too worried about the climb to think about these petty trades ... I know, mine is only envy. The important thing is to rest and eat well to be ready to climb the next venture, which predict rather difficult ...
6th July, 2010
Pending window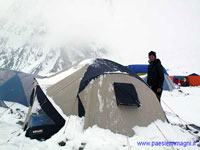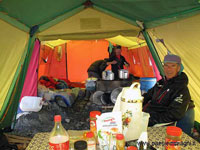 After a storm comes a calm... is only a trivial consideration, but when you are inside, the bad weather seems endless. I apologize in advance for this and other obviousness: who proceeds reading, expecting a report is warned: read this blog at your own risk. In these days of waiting, snow and wind we have rearranged the camp, installed the generator, maintained good neighbourly relations with other expeditions. Personally, I try not to abuse the time of Gerlinde although I would like; there is a whole procession visiting her. She receives everyone with patience, although it must be quite tiring. To be a star, I mean. Yesterday, even Alberto Inurrategi and partner(who are planning to cross the BP) arrived to visit her from the base camp of Broad Peak. A meeting between the Titans,if you'll pardon the expression. Each of us has his quirks: for me the real stars are those that do not put on air and accept the comparison with the public. Other stars believed so much in what they do to lose contact with reality, erecting a barrier between themselves and ordinary mortals, forgetting where they belong. I may also admire the latter category, but I never like it. For our part, we wash dirty clothes, read books (I ended Mr. Malaussene of Pennac and I am already orphaned by Julie, Jeremy, Clara, Therese, etc.) listen to the music (my favourites Michael Nyman, Ludovico Einaudi , Alanis Morissette, Dead Can Dance, Subsonica, Negrita, U2, Giorgia, Irene Grandi, Sigur Ros, Bjork, Vasco Rossi, Ligabue). Now, thanks to the generator that allows us to reload the pc, I also re-watch some movies (for now only Matrix Revolutions and Blade Runner - The Director's Cut). I do not know about you, but there are songs, movies, books that I listen again, review and reread without ever being tired.Gino Paoli, for example: Senza Fine. It is so deeply etched in my brain that I do not need to hear it ... just when I want, I turn on the switch inside me and it starts: it is now part of me, like all things I love. The memory is inherently imperfect, and mine more than others - too many neurons burned at high altitude, I think. But that makes some memories even more precious. I cling tenaciously, as to a slippery rock, knowing that if I lose my footing I will fall down the abyss of oblivion. We are a network of memories and prejudices and perhaps a little something else. If we lose our memories, what remains is a timeless eternal present, little more than a transit of food, as Giuseppe Tucci would say. Forgive the lesson. I have time to throw away today. "Do you remember, my love, a summer, at the turn of a path, a dead horse lying upside down, like an unchaste woman, distilling its poison in the air...?" I go by heart. Baudelaire is surely turning over in his grave. The funny thing is that what we call memories are not complete mpg file from start to end: only fragments, jagged chips, incomplete and inaccurate. We really want to frame them in their place, like a puzzle. Yesterday, for example, here at CB, I recognized Michael, Ehsan's nickname, my cook in Baltoro in 2000 and in 2001 in my expedition to GII. I had completely forgotten him, lost sight. He now works for Gerlinde and Ralf, who do not want another cook if not him.Now I remember that we took a picture together, in underpants, on the Gondoghoro La in 2001 to celebrate the end of expedition. I think it is on my site yet. Ten years and a cut of beard. Sometimes I just lose a chunk of memory, which has re-emerged from the depths of nowhere just because Ehsan recognized me. "The chance does not exist", a friend of mine (inclined to mysticism) would say. For me we are victims and victimizers of the chance, in large cosmic blender.

P.S.: I do not smoke anything, I assure you: not smoking (never) and not drinking, at least in expedition. "And where is the mountain?". You will say. The mountain is the outline.