If you want to contact me during the expedition, use our guestbook!


Thursday, July 21
Thanksgiving (or what is behind the "wonderful world of the eight thousand")
The party is over. My three Italian mates and I are happily arrived in Skardu after a short trek of three intense days (8-10 hours of walking per day) across the Gondoghoro La. Oscar Wilde wrote that truth is rarely pure and never simple. In tribute to this aphorism, I would try to give my partial, small, contribution of truth. I do it through some credits because no one ever takes the trouble to give thanks at the end of an axpedition, except to their sponsors.
Thanks to Gerfried Goeschl, for its unique concept that to be an expedition leader means think first to himself, making money by any means on the participants, and avoiding to get personally involved as much as possible. Noblesse. But then came the Montagnards and Robespierre...
Thanks to ... Ali, promoted on the field from high altitude porters (paid) to even climbing "companion" of Mario Panzeri, on the priceless montagna.tv site.
Thanks to all those who have climbed the G1 on July 13 (including the oxygenated Japanese with her two Nepalese Sherpas and nine bottles of O2) for not having made ​​it very clear that they owe the summit to a certatin Canadian, Monsieur Louis Rousseau, without whom the couloir "des japanais" leading from C2 to C3 would still be IMMACULATE.
Thanks again to Gerfried Goeschl for pushing forward Louis in order to settle the fixed ropes on the G1 couloir (fact that costed to the same Louis the summit, for exhaustion) and for formally banning him - three days after - from racing from the base camp with oxygen and drugs to the rescue of his compatriot Marc André Beliveau, struck by cerebral edema at c3 of G2, on the ground that "it was not strictly necessary" (fact that costed a solemn quarrel with shoves between the two at the base camp).
Thanks to the gods of the mountain to have left in life (with a little shock, but otherwise unhurt) on the day of the summit, Dr. Stefan Zechmann (expedition doctor) after a slip of nearly 200 m from the summit ridge of the G1, on a slope of ice at 45 degrees. All's well that ends well, isn't it?
Thanks to the CEO of Adventure Pakistan to have borne the additional 800 Euro that Mr. Goeschl has unilaterally decided to charge to Adriano Dal Cin and me as extra penalty (other than that agreed, fixed in advance and already paid of 800 Euro) for choosing not to participate in the extension of his K2 expedition (they are only two, he and Alex Txikon).
Finally, special mention to Alberto Magliano, for uploading as a beast of burden (over 20 kg rucksack) and heap abusing until tears on his high altitude porter Javed Ali (all settled with a big tip in the most pure style I gain, I pay, I pretend). Text: "The Baltistan porters are not worth even half of their Nepalese colleagues." The words were different but the meaning was that. There are many other "pearls" attributable to the pensioner climber of 8000, but it would be like shooting on the Red Cross.
It is cruel to keep on boring you with other high altitude human miseries: I prefer to do other types of credits, most hearthfelt, in my next and last post.
Saturday, July 23
Chilas - In memory of Leila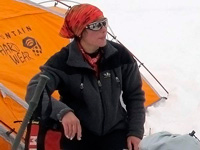 I wanted to close this blog with thanksgiving. Not ironic, as in the previous post, but sincere, and addressed to those who have done something for others and not only for themselves, during this season on Gasherbrum. Starting with the rescuers of Sadik up to the saviors of Marc André, not to mention who has pulled out, unscathed, an Englishman from a crack 30 m deep, near the c1. But all this is outweighed by the facts, the news of the tragic death of Leila Esfandiari, while on descent from G2's summit. Over the time, a friendship was established between us, for the months past in the same base camp, expedition after expedition, in the mountains of Karakoram. She, Iranian, and beautiful woman, determined to climb, even alone against all, against the bureaucracy of a country that does not give too much space to independent mountaineers, especially if on bad terms with the powerful federation. Last summer, on K2, she told me that she had to sell her apartment in Tehran, returning to live with her​​ family, just to be able to fulfill her dream of dealing with that (expensive) expedition. Unfortunately, none of us managed to climb, and so Leila tried again this summer with G2. After a failed attempt on July 14, she tried again on the next window, yesterday, Friday 22, which has seen about fifteen successful summiteers. I left the base camp five days ago, knowing that Leila would have retried, despite the tiredness of the first attempt. Leila was determined, she has always been, even when the forces alone were not enough. It's the key to success, but the same key opens more doors, which sometimes give the abyss. Leila was recently joined by three climbers of her country, and she introduced me. I doubt, however, that they were some of the 6 members of the Iranian official expedition, recently arrived at base camp. I do not know, and maybe one will never know, the exact circumstances of the fall (sudden illness, failure of an anchor, exhaustion), but I think it isn't important to know the exact dynamics. What matters is the awareness of a missing person, a friend, who was with us until yesterday, and now no more, except in the memory of those who have loved her. It saddens me to see the disappearance of the only woman remained committed to G2. Among these many mountaineers, climbed mostly for vanity, I think that the only one who really deserved to do it, was Leila, as a witness to a dream of freedom for the women of her country.
Please note that DISCLAIMER: The information above is provided for the sole purpose of this blog to chronicle, based on items collected directly or indirectly by me, and verified as far as possible. There is no claim to completeness and/or accuracy. Those who chose to use them elsewhere, they do it under their his sole responsibility.