If you want to contact me during the expedition, use our guestbook!


Tuesday, June 21
Gore II - 4250 m
The expedition moves with the usual stages of the Baltoro trek. Gerfried tried to avoid the traditional rest day in Paju, but the "unfavorable opinion" of the majority of the carriers and the fact that not all the materials departed on time from Askole, have decided otherwise. This change was welcomed by trekkers in tow, who enjoyed such a relaxing day in Paju with lots of swimming in the icy and coffee-colored water of Braldo (no, they are not masochists: it is the last chance to make a full bath before returning to Skardu). Tomorrow we will separate (temporarily) by trekkers: they will stop in Concordia a couple of days and reach the base camp of K2. In the meantime, the expedition will advance further, to respect the date of arrival at b.c. of Gasherbrum 1 and 2. We will meet again on 25 to b.c. To be fair the tents are not yet all available: there aren't enough for the trekkers and some of them are forced to sleep in a tent for three. Moreover, Gerfried reported that the mats tomorrow will follow the expedition and, unless a miracle, our trekkers will remain without. I have informed the correspondent and I really hope that he will arrange it. These are the negative news, overall a small number in a caravan of nearly 40 people. Positive notes are the beautiful weather, the fact that we are all well, and that intergroup relation, and between us, are very good. In a couple of days, I will update the blog from the base camp, hoping that the materials arrive…
Friday, June 17
Jhula 3150 m
Finally today we took action. The discomfortable transfers of recent days are gone, now that we walk among the tall pots. Actually there was a number of difficulties with the arrival of the materials to Jhula: a part is still missing in this late Friday afternoon, and some moody winds. But spirits are high and the weather shoul be beautiful in the next few days. This expedition is by far the largest I have ever attended. Besides the 25 climbers (including 5 mini-groups of the Basques Alex Trixon, with a professional cameraman and 2 trekkers en suite), there are seven Italian, one English and two Austrian trekkers, for a total of 37 people! Ali Muhammend (boss of Pakistan Adventure, young and fast-growing agency) must surely have had some organizational headaches ... Despite everything, at evening we stay all together in the huge dining tent: to my surprise this salad of European nationalities seems successful, involving also the trekkers. The different ethnic groups are not closed in separate language enclaves, but they are mixed, speaking every language possible. Lingua franca, of course, is English, but somebody of our Italian group speaks German, while the Canadian Justin, along with the Austrian Willy and Stephan – medical doctor of the expedition - speak a decent Italian. We can say also something in Spanish, but for the moment the 5 Basques are the only ones who are a little aside. But it's just our first day of the trek, and I'm sure that soon we'll get closer. The kitchen of Waqar (same chef of my expedition to K2 and of Gerfried's winter expedition to G1) is excellent and varied, and in these early days we have also fresh fruit: watermelon and mango. Waqar is doing his best, almost to apologize for the modest reception of our first night in Skardu. His simple hotel just could not accommodate simultaneously both trekkers and climbers. The rooms are small and spartan, but Gerfried (with my approval, for that matter) has rightly preferred the idea of ​​giving a hand to his activities as a hotelier. The next day, even those who have stayed elsewhere, have realized it. Skardu lives only a short season in June, July and August, and these months should be enough, to those who live of tourism-related activities, even for the rest of the year. Local authorities want to increase tourism between their mountains, as Baltistan is extremely quiet and safe. Unfortunately, the European Nations have put Pakistan on the index in full, without much distinction between the various areas (and souls) of a country that has 180 million inhabitants. For my part, I can only hope that in a few years the situation will improve for these people, with the return of mass tourism in Pakistan (climbers are a perfect zero, except for the local business that revolves around expeditions).
Wednesday, June 15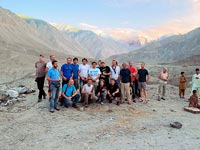 Skardu
After more than 24 hours of Karakorum Highway (KKH), we finally reached Skardu at 4 am today. In our plans there was a flight from Islamabad to Skardu, but also this year - for reasons that I'll never know for sure - there was nothing to do. So we leaved by bus directly on June 13, early in the morning, energized and fresh after a night spent on a plane, direction Besham. Lunch at a restaurant in Abbottabad, 10 minutes walk from the house that - until a few weeks ago - housed the world's wanted No. 1. I wander if sometimes Osama bodyguards have came here to buy fried chicken and dhal for their boss. We leaved after lunch to Besham, 200 km from Islamabad, along the KKH, that we reached after dark. A few hours of rest in a real bed, and then on the road again at 4 o'clock in the morning, for what I believe will be the hardest day of all expedition. The KKH is more pitted than usual and media speed does not exceed 25 km/h, between checkpoints and road works. To cover the 550 miles that separate Besham from Skardu it takes 23 hours, continuous, stopping just for breakfast, lunch and dinner. Maurizio told me to suffer from car sickness and I, unwisely, dangled him in front of the possibility of a flight to Skardu ... I am sorry and mortified by his discomfort, but Pakistan once again proves to be a country for hard boiled men. Last surprise: the hotel of Waqar. I was hoping that at least they changed the sheets and put clean towels and soaps in the bathrooms, but "... this is Baltistan, honey" ... Gerfried has perhaps relied too much on the local organization. General uprising, despite the fatigue, in a situation that was about to degenerate. Luckily, the promptness of Ali secured the tension created by the Teutonic inflexibility of Gerfried, bringing our group of trekkers, Silvano, Mario and Guido to the dear, old, but above all comfortable Hotel Mashabrum. Adriano and I stayed by Waqar, more from exhaustion than for solidarity with the rest of the Spanish-Austrian-Swiss-Canadian-British group ... But all things pass, and today the sun shines. Relaxed and satiated, we are ready to begin tomorrow the Baltoro trek. As they say: "more news asap ..."
Saturday, June 11, 2011
Departure's Eve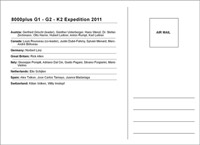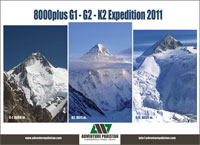 Today, departure's eve, is - as always - my worst day. I hate having to pack and I always defer it to the very last minute. Too bad, I say to myself, but every time it's the same story. Objects have a sort of malicious awareness and what, until yesterday, was always in my way, now that I'm looking for, it seems magically disappeared. I run around my home, rummaging pointlessly. How I wish I was already in Pakistan, walking among the rock and ice giants of Baltoro, "Into Thin Air"! But the Unbearable Heaviness of Being brings me back to consciousness with the chaos of the present. In the midst of a frustrating, fruitless search, the old Kurt calls: "Hello Giuseppe, thanks for your greetings. Can you come and see me today? I would like to give you the book "No way down" by Graham Bowley, on the 2008 tragedy on K2, with my preface, freshly printed by the publisher. It's the German translation: I know that you don't read it, but at least have a look at the pictures. Besides, Gerfried and your Austrian mates will find it interesting .... I write you a dedication". Caught off guard, I stammer, "But ... thank you Kurt, it's a pleasure and an honor," while I am touching wood. But where the hell do I find the time to cross town on Friday with the jammed bypass and my luggage still scattered on the floor? But these are just details: what matters is that I've found an excuse to put off for a bit the inevitable. I rush into my car and I go to Diemberger. A Great. One of the few remaining pioneers who didn't sell his soul and does not put on airs.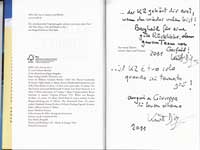 Come on, here's the book, who knows if I'm within the allowed weight... The Karakorum Mountains are so remote that they don't frighten yet, and the desire to watch them again keeps on growing. It is almost time for start. Those who followed me in the past, don't need that I dwell on it further, but I would like to introduce my four adventure mates from Italy. Adriano Dal Cin is my team-mate and needs no introduction. He's a veneto climber, silent and strong, my trusty expedition mate since a dozen years. After all this time I am surprised that he didn't get tired of me, sending me to hell once and for all. I just hope he doesn't do it now! Mario Vielmo is a mountain guide from Lonigo with 8 eight thousand already climbed. We met in 2007, when he was on K2. The last two climbers are on their first try on an eight thousand, but both have the credentials to a fair attempt: Guido Pagani was a mountain guide instructor for the financial police in Agordo and climbed Fitz Roy. Together, we summited just Aconcagua, but it was enough to become friends. The main difficulty for him was to break free from the shackles of family and job. After this experience, I expect that it will be very difficult for him to line up ... Silvano Forgiarini is the only non-veneto of the team (apart from myself a "terun" from Bologna, below river Po). Silvano is a Carnia mountaineer, strong and modest, a bit more talkative than Adriano. At home with the Tarvisians, he climbed quite a lot of Carnic Alps in all weather conditions. Together we summited Ojos del Salado last winter. Five very different personal stories, linked together by a common passion. Half of the work is behind us, but now it's time for the most challenging part, the vertical one.
Sunday, May 8, 2011
Close Encounters at Abbottabad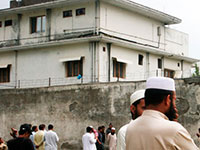 During expeditions to the Karakoram 8000ers, the fear of danger inevitably creeps, at least a little, even in the thoughts of most seasoned climbers ... But reality is always one step beyond imagination, and often the worst risk is in the unexpected, in the fact of assuming (wrongly) to be safe in an alleged quiet place. Over the past four years I went three times through Abbottabad, following the Karakoram Highway towards Skardu. On one occasion we stopped for lunch and we walked along the streets of the pleasant town, with its high-walled houses interspersed with the Pakistani army barracks of the cantonment. Now, following the U.S. blitz in the Abbottabad compound that housed Bin Laden, my hair stood on end: no avalanches or frostbites were lurking on our little heads, but one-ton bombs and killer drones, only because we had stopped to have a drink and buy some candies just steps from Osama's home... The moral? "There are more things in heaven and earth, Horatio, Than are dreamt of in your philosophy." W. Shakespeare (Hamlet, Act I, Scene V)
Monday, April 11, 2011
The beginnig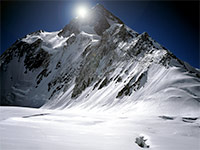 As time goes by, the departure to Karakorum is approaching. Adriano Dal Cin and I, this time with three other friends, Guido Pagani, Mario Vielmo and Silvano Forgiarini, will attempt the ascent of Gasherbrum I, 8068 m. We will be the Italian component of the ÖAV international expedition led by Gerfried Göschl. The attempt to climb G1, also known as Hidden Peak or K5, will keep us busy from June 12 to July 20... then we'll see what to do next, considering the weather conditions...
As usual I will keep you informed with my ramblings that tell the story of the expedition .